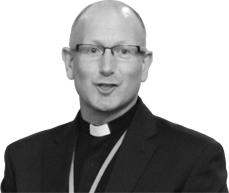 Welcome to Salford Cathedral. We hope that your visit to our website will introduce you to some of the many glories of this extraordinary cathedral church and the people who make it a truly vibrant parish community. Everyone is welcome to join us here at the cathedral and our hope is that all the faithful of the Diocese of Salford and visitors alike, will come to find the Cathedral of St. John the Evangelist to be a true spiritual home.
Dean of Salford Cathedral – Fr. Michael Jones
---
Cathedral Livestream
---
Order of Service: Fr John McKeown
Monday 28th September, 10.00am.
If you are joining the Requiem Mass for Fr John McKeown from home, you may wish to download the Order of Service by clicking this link:
Donating to the Cathedral
We look forward to welcoming you to the Cathedral in person again. We are receiving enquiries from parishioners who have asked us how you can continue giving to our parish during the pandemic. There is no expectation to give, but if you would like to give your usual offertory donation or more, you can do so by clicking the button below.