Quarant'ore Mission
18th-23rd June 2019
What is Quarant'Ore?
The Forty Hours' Devotion (Quarant'Ore) first celebrated in Milan in the 1500's.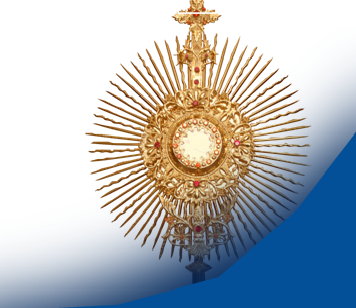 The Blessed Sacrament was displayed on the altar continually for 40 hours during a time of calamity and danger.
The faithful were encouraged to come
and take turns praying for at least an hour.
This devotion soon spread to other parts
of Italy and in 1548, St. Philip Neri
introduced it to Rome.
The collective adoration of the exposed the Eucharist for a period of 40 hours is in honor of the time Our Lord spent in
the tomb (no single person is expected to spend 40 hours in adoration).
While we say in the Creed that Christ was in the tomb for "3 days," those days are in the
reckoning of the Old Testament religion, which counted any part of a day as "a day."
In other words, Our Lord died at 3:00 on Friday (day one), descended into Hell (the afterworld) to save the righteous dead and was laid in the tomb on Saturday (day two), and arose on Sunday morning (day three). In modern terms, we'd say He was in the sepulcher for "1 1/2 days or so" because some of those "days" are partial days, but those who practiced the Old Testament religion, and those who practice modern Judaism, would consider that time period "3 days."
Counting the time by hours, however, we can see that from 3:00 PM Friday to 6:00 AM Sunday are 40 hours.
This devotion is often practiced during the Sacred Triduum (the three days before Easter which consist of Maundy Thursday, Good Friday, and Holy Saturday), but is also offered in times surrounding other great Feasts, or on regular schedules not related to the calendar at all.
A celebration of this devotion is begun by a Solemn Mass or "Mass of Exposition" (by a priest or bishop); and at the end of the period of forty hours, culminated by a "Mass of Deposition," which is accompanied by a procession.
When visiting the Blessed Sacrament as the 40 Hours Devotion goes on, we are to recite a sequence of prayers, such as the rosary, or an Our Father, a Hail Mary, and a Glory be 5 times — the last cycle being for the intentions of the Holy Father. If one does this after having gone to Confession and received Communion, one receives a plenary indulgence (under the usual conditions).

During our Quanrat'Ore Mission this month, we will host a week of events and opportunities for adoration, benediction and participation.
Download our resources to partake or come along to the Cathedral and/or St.Joseph's from 18th June to get involved.
Download Wednesday's Liturgy
Download Thursday's Liturgy
Download Friday's Liturgy
Download the Programme of Events
Download the Guide to Confession
Download your Scripture resource pack